KEY WEST INSTITUTE ™ 2023- 2024 SEMINAR SERIES: RESEARCH-FINANCE-SCIENCE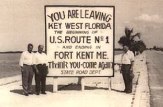 Mission: The Key West Institute's "Mission" is to provide a forum for influence and education in the Environmental Sciences for "Managing New Global Horizons" that will sustain the world's species diversity. We are committed to research in disciplines that will facilitate strategic economic contributions. Our first responsibility is to promote the scientific sustainable environmental standards envisioned in the 1930's by KWI forefathers Dr. Edward Kotas, Professsor Charles C. King and Dr. Crawford Johansen. (pictured above)
Key West is 24 degrees 33 minutes North Latitude -- 24N33 (24.5 North). Longitude is 81 degrees 47 minutes West -- 81W47 (81.77 West)

OCEANSAFE.ORG


The following programs are beginning to be available:

Immunology / Marine Environs / Hyperbaric Applications

Bio Data Management / Research / NanoAlpha™ Systems Sales / NanoContainment

Electronic Perimeter Systems / Laser Verification / Computer Detection Development - NanoAlpha™

Chemistry / Environs / Aquaculture
KEYWESTINSTITUTE.COM
"
A Professional Electronics System Organization
"

Cellular and molecular Biology / CMR Certified Mariculture Researcher - Finance Management
" It is not the strongest of the species that survive, nor the most intelligent, but the ones most responsive to change."
-Charles Darwin
Seminar Series - "Research for the New Puzzles" 2023/2024

Who can particpate?

KWI approved attendies/email

Where?

Key West

Seminar Series
"Maricuture Producer Resource Expo
September 12-13, 2023
"Electronics/Resource Setup: NanoAlpha™ Product Capabilities & Analysis/South America Expo"
October 26-28, 2023
Symposium on Finance and land development
November 19-21, 2023
"Aquaculture/ Sustainable Processes"
December 21-23, 2023
"Construction & Management in Marine Environs:Construction Management Institute of FL Presenter"
March 16-18, 2024
"Marine Analysis Workshop Symposium"
May 24-26, 2024
" Businesss Finance/ General Processes"
June 12-13, 2024
(all this year's dates sold out)
Support! Key West Institute's - 'EverGators™ ' Initiative - Since 1991 - To Preserve The Everglades Habitat!
EcoiNotes© by Tomas Hagan

EcoNote: Sitting on the business porch of a fellow Conch, I pondered why they named this island after a certain color on the spectrum. Gazing over the water did not offer the answer – the answer was later explained that the name came from a mollusk which has since changed it's residence... due to over harvestiing!
"FUE MI AMIGO" DR. ED KOTAS & GREGORIO FUENTES RELEASE TOURNAMENT
FOR RESEARCH... March 14-16, 2022
Medallion created by Internationally awarded Wildlife Artist Mr. Dave Cusenza of the Pacific Northwest
Medallion $99.95 postage paid FL Residents add sales tax
Visit Archivo General de Indias, Seville, Spain
Key West Institute™ Officer's Advisory Board
Dr. T. E. Kotas / Chairman - Dr. Hamilton Cunningham /General Counsel -Jonathon K. Guirl Ph.D./Board Member
Dr. Edoard N. Koenigsen/Board Member/ - Researcher Jorge Canasta/Board Member - Dr. Charles King III/
Board Member/ International Govt. - C.Y. Shen/Board Member - Regina Roswald P.A./ Board Member
Key West phone redirect to various KWI U.S. Departments 305. 509. 0100
chairman @ keywestinstitute.com
* mail drop c/o Key West Institute Corp. / P.O. Box 1119, Key West, Florida 33041
The Names sharkfest (com) is a Trademark owned by Key West Register Corp.
used for research projects since 1939 and as part of the advisory partner of the Key West Institute
All Rights Reserved. Copyright © 203 Key West Register Corp.