Eclipse State
ä
: FloridaKeys.US

"Key West An Everyday State Down U.S. 1" ©

"GULF STREAM OIL STRATEGY?" ... CHINA & CUBA 'OIL FIELD OF DREAMS'! ?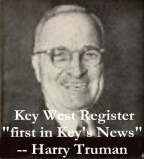 "first in Florida Keys News"©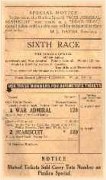 First Amendment of the United States Constitution. "Congress shall make no law respecting an establishment
of religion, or prohibiting the free exercise thereof, or abridging the freedom of speech, or of the press; or
of the right of people peaceable to assemble, and to petition the Government for the redress of grievances."

Official Registered 'Spiked Water
ä
'... Hulacane
ä
Email Editor!
FloridaKeys.US & keywestregister.com - Key West Register are Trademarks of Key West Register Corp.
Key West Register is published daily (electronic)
Mail to: P.O.Box 1119, Key West, Florida 33041 - The advertiser agrees that the publisher shall not be liable for damages arising out of errors
in advertisements beyond the amount paid for space actually occupied by that portion of the advertisement in which the error occurred,
whether such error is due to the negligence of the publisher's associates or otherwise, and there shall be no liability for
non-insertion of any advertisement beyond the amount paid for such advertisement.
Key West Register assumes no responsibility for any losses, damages or liability whatsoever suffered or incurred by any person,
resulting from or attributable to the use of the information published on this site. User is using this information at his/her sole risk.
Hyperlinking - We welcome you to link to the homepage of this website provided that: *you do so in a way that is fair and legal
and does not damage Key West Register's reputation or take advantage of it; you do not establish a link in such a way as to
suggest any form of association, approval or endorsement on our part where none exists; the website from which you are linking
does not contain content that is distasteful, offensive or controversial, does not infringe any intellectual property rights or other
rights of any other person and complies with all applicable laws and regulations. This website must not be framed on any other
website, nor may you create a link to any part of this website other than the homepage. We reserve the right to withdraw this
permission to link to this website without notice.

© Copyright 2023 & Trademark of Key West Register Corp.